April 2018– https://www.facinghistory.org/holocaust-and-human-behavior/program?hsCtaTracking=fa10219e-c0eb-4994-860d-6bcb5ff94f02%7C63644006-99f3-4e53-a08a-69ee2565ae66 – A study came out this month  fromConference on Jewish Material Claims Against Germany (Claims Conference) that there is a series lack of knowledge both in depth and cursory about the Holocaust.  The study makes the claim that 49% of millennials cannot name a single camp or ghetto created during the Holocaust.  Facinghistory.org has complied resources (videos, articles, and lesson plans) for teachers to help combat this gap.
February 2018–  So we all by now know that I'm pretty obsessed with Google slides! And there is even a new and better way to enhance your presentation especially if you want students to be able to follow a presentation you created at home.  The resource is Screencastify. Here's the youtube video I used to learn how to do it- https://www.youtube.com/watch?v=WGQ4JoASENg
You'll need to download a free google extension called screencastify and your computer needs a microphone (I think that's standard now anyways though?!?!). Watch the video but basically when you use screencastify you'll talk over the slide and then the video saves. You'll then embed the video into the slide you did the voice recording and make it super small. Click the video options and choose autoplay so that it just starts when the slide starts.
I don't think the video addresses this part I had a hard time figuring out how to give permission to allow a 3rd party watch the videos. You'll have to click each individual video and make the share settings to "anyone with the link". Just sharing the presentation doesn't give the person access to the videos.
January 2018- https://www.ancestryk12.com/– Jeff Ruebenssal from HSA Lorain introduced me to this website.  AncestryK12 offers free access for one year to all the original and primary documents of Ancestry's U.S. Collection, Fold3 and Newspapers.com for use in curriculum. Through leading educators from around the country AncestryK12 has developed lesson plans targeting a number of core subjects. Download lesson plans in PDF format here.
After completing the grant (Mr. Ruebenssal assured me that it's not cumbersome) anyone using the schools internet is able to research their ancestry through the website.  Mr. Ruebensaal used the website while his students were learning about immigration to the United States.
December 2017- http://rewordify.com/– ** Free subscription. Rewordify allows teachers to enter hard sentences (or whole chapters) into the yellow box at the top of the page. (You can also enter a web site URL.) Click Rewordify text and you'll instantly see an easier version, for fast understanding. The reworded words are highlighted— click them to hear and learn the original harder word. You can change how the highlighting works to match the way you learn!
Example: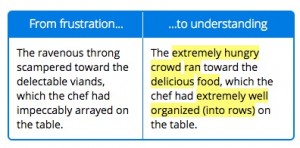 It can also be used by students independently to improve their vocabulary and reading skills- In a Learning Session, you see and hear words in context. You see and hear their definitions. You practice typing them by copying them, and then after hearing them. Along the way, the site monitors how well you know the word, reteaching you when you need it, and moving forward when you're ready. You can see your progress every step of the way.
November 2017– https://nearpod.com/ – Nearpod strives to empower educators to create learning experiences that engage and inspire millions of students around the world.  Using Nearpod teachers can make their traditional PowerPoint presentations interactive for students.  **Generic subscription is free, more features have a cost. 
June 2017– To-Be Education– To-Be Education is an online debate game website.  Students will learn about a variety of social studies topics and then using characters living during that time period will debate with one another via the website.
April 2017– Library of Congress– The Library of Congress provides teachers and students with primary source documents to enhance teaching and understanding.
March 2017– Facing History and Ourselves-Through rigorous historical analysis combined with the study of human behavior, Facing History's approach heightens students' understanding of racism, religious intolerance, and prejudice; increases students' ability to relate history to their own lives; and promotes greater understanding of their roles and responsibilities in a democracy.  Facing History provides lesson plans to assist teachers.
February 2017– World History for us All-World History for Us All is a national collaboration of K-12 teachers, collegiate instructors, and educational technology specialists. It is a project of San Diego State University in cooperation with the National Center for History in the Schools at UCLA. World History for Us All is a continuing project. Elements under development will appear on the site in the coming months. World History for Us All is a powerful, innovative model curriculum for teaching world history in middle and high schools.
World History for Us All:
presents the human past as a single story rather than unconnected stories of many civilizations.
helps teachers meet state and national standards.
enables teachers to survey world history without excluding major peoples, regions, or time periods.
helps students understand the past by connecting specific subject matter to larger historical patterns.
draws on up-to-date historical research.
may be readily adapted to a variety of world history programs.
offers a treasury of teaching units, lesson plans, and resources.
May 2015– http://teachinghistory.org/best-practices/using-primary-sources/24490– It can be time-consuming to find and prepare primary sources for your lessons. On each of the below sites, you will find primary sources that address multiple topics in U.S. History
April 2015–  https://www.icivics.org/– Icivics is a website that has worksheets, lesson plans, online games for students to learn about the United States government (all levels).
March 2015–  https://sheg.stanford.edu/rlh– Reading Like a Historian- curriculum engages students in historical inquiry. Each lesson revolves around a central historical question and features sets of primary documents designed for groups of students with diverse reading skills and abilities. (World and US History, higher level).
February 2015– http://blabberize.com/– Blabberize- using a picture of a person from history and animate it so that the person delivers a message to the students for you)
December 2015– https://getkahoot.com/  – Kahoot is an online trivia game that students can participate in.  The teacher creates the quiz using multiple choice questions, videos and pictures can also be used to ask questions.  There are also pre-created quizzes that can be used. Once the teacher creates the quiz students are able to participate by using their phones, ipads/tablets/computers to answer the questions.  Students get points by answering correctly and quickly.  This is a great review game!
November 2015-›www.voki.com – Thank you Meghan Cremean from Toledo High School for bringing this website to my attention! Voki allows you or your students to create a historical character and bring it to life.  You are allowed to pick a person, change their clothes and background, and then type out a message for them to deliver.  Have your Voki creation give directions to an activity, or have the students create their own Voki to educate their classmates about a famous person in history!  **This is a free website, but there is also an upgrade option which is for a cost.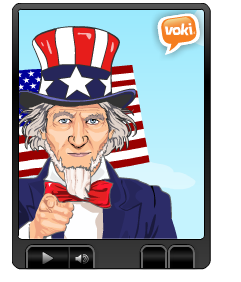 October 2015–https://www.educanon.com/ – This website allows you to download videos from Youtube and Teachertube and create your own questions that go along with the video.  The video will pause its self and ask the students any short response question or multiple choice question that you create.  Since everything is happen (video playing, questions being asked, and answer given) in one place it creates a seamless quality activity.

September 2015– http://www.isidewith.com/ Thank you Jenna Salupo from Cleveland High School for submitting this website!  As the 2016 election race has already been making headlines, it is a great time to get our students involved in their world today.  The website above allows students to take a quiz about their stances on current issues.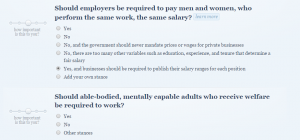 Student will answer questions about economic issues, immigration, domestic policy, electoral issues, healthcare, foreign policy, education issues, social issues, and environmental issues.  They have a simple yes/no answer or other which will display more specific answers.  Students will also rank how important the issue is to them.  If they are not sure where they stand on an issue they can click the "learn more" button next to the question to get more information so that they can make an informed decision.  After the students answer all of the questions they are matched with the candidate that most represents their beliefs/values.  They can also see where they match with all candidates.  This website is unique because it does not just link the students with a party, but an actual candidate!
March 2015: http://ed.ted.com/lessons Select your subject and find which short, fun history video that connects to your topic. The video also included follow up questions, more information for those curious students, and guided questions for the lesson.  Sign up for free to create your own lesson and see everything that the website has to offer!
November: http://betterlesson.com/ Sign up for free and search for lesson plans, activities, and worksheets create by other teachers. It works in the same way that sharemylesson.com operates.  Teachers can filter the responses by grade level and by subject.
September/October: http://www.sharemylesson.com/ Sign up with this website and find all new teacher made resources.  Unlike Teachers Pay Teacher, these educators have put their work online for free.   Search for a topic and filter by age group, there are activities, PowerPoints, test preps, and lesson plans.
March: The Zinn Education Project promotes and supports the use of Howard Zinn's best-selling book A People's History of the United States and other materials for teaching a people's history in middle and high school classrooms across the country. The website offers more than 100 free, downloadable lessons and articles organized by theme, time period, and reading level. The Zinn Education Project is coordinated by two non-profit organizations, Rethinking Schools and Teaching for Change.
February: The PBS website is a great place to find articles, videos, and activities for your classroom.  Simply sign up for a free account and have a multitude of resources at your finger tips for all levels and subjects of history!
http://www.pbslearningmedia.org/
January: A FREE site called Edmodo.  The site allows you to communicate with other educators and also your students.  Students can post projects, reports, or homework to the classroom site that the teacher creates.  Teachers will be added to a feed where they can interact with other teachers about projects or assignments and also post their best practices.  Great resources available here!!!
https://www.edmodo.com/?language=en&auto_selected_lang=true&logout=true