October 2018 Winners:
Xzadriana Natal- Horizon Science Academy Lorain– Xzadriana forth 100 percent effort into all that she does in school. She is helpful to others and works well with all of her classmates. Xzadriana is an example of a wonderful student with a great work ethic and drive for academic achievement and success. She is often an example that others follow. Project Completion date 10-11-18 Ohio Facts Research and Illustration page project. The student completed this project with time, care and effort. She worked diligently during class using her Chromebook and other resources given to research information and facts about Ohio. During the 2 weeks to complete the project, she spent extra time in and out of school working on it and also printed colored illustration pages at home. Below are examples of Xzadriana's excellent project.
Geno Cook- Michigan Math and Science Academy– Geno has always been a good student and very active in participation and class discussion in my classes. This year when the seniors can take it easy with courses, he decided that he was going to challenge himself by taking an AP class so that he can better prepare himself for college and the future. Not only is he a key factor in our classroom discussions and dialogue but he also turns in quality work. We had our Voter Registration Drive and Geno was one of the students that helped make our event a success. He has also taken the initiative to get trained to work Election Day at the polls in our community. Lastly, our students teamed up with the Alzheimer's Association and we went to the Detroit Historical Museum and assisted with an event they were hosting. Geno went to the event and not only helped and assisted in the success of the event but he made meaningful connections with the guests there and positively represented himself and our school. Below are examples of Geno's outstanding work.
Isaiah Harvey- Horizon Science Academy Youngstown– Isaiah Harvey often goes above and beyond as a student in his history classroom.  He is often helping other students, participating in classroom discussions and adding his own knowledge to the discussion.  He has a GPA of 3.76 and ensure that his work is turned in on time.  He is currently working on a bonus project to create an assortment of myths and legends of Rome,.  He also volunteers every month at a local animal shelter with his family (volunteer application shown below).
September 2018 Winners:
Aisha Bhatti- Chicago Math and Science Academy- Aisha is one of the most outstanding students I have ever taught in 7 years of teaching high school.  She came to CMSA her sophomore year from a homeschool setting.  I noticed early on that for Aisha it was an extra effort to be successful at CMSA.  Aisha was in rolled in APUSH and APWH and has achieved and surpassed all of her peers in both subjects.  The focus of a major history paper that year examined cause(s) for the American Civil War.  Aisha wrote one of the best and most eloquent arguments for the subject I have ever seen from a student.  She critically and carefully analyzed the nuances of social, political, and economic factors inherent in the complex conflict.  I retain a copy of her paper today as a pristine example of what it is possible for AP history students to aspire too.  Her AP exam scores are representative of the highest achieving student I have had in both subjects.  Thanks to her remarkable efforts at critically examined and improving her work she has earned free college credit in both subjects!
I wish I could take credit for Aisha's success, but the reality is she deserves all the credit for her outstanding efforts at improving her skills and developing productive relationships with her peers.  She frequently would attend tutoring; seeking to improve her reading and writing skills, even beyond the benchmarks that I had set as representing significant improvement.  She set personal goals that ensured her success and tirelessly worked to achieve them.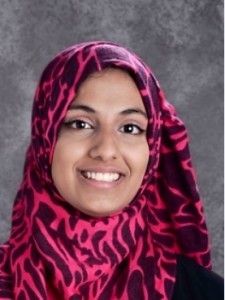 Marcus Stanley Jr.- Horizon Science Academy Dayton Elementary- It is easy to go on and on about Marcus'  work ethic in school and submit his class work and projects which he gives 100% every time but my nomination this month has everything to do with Marcus's passion for making Dayton Elementary events a success. Marcus is such a wonderful person who goes out of his way to volunteer in all the events at his school. He goes above and beyond to rally up support and morale for the things that we do. Not only does Marcus excel in his courses at our school but he also excels in community events outside of school.
Addie Collins- Michigan Math and Science Academy- Addie is proving to be an exceptional student. While she started the year quiet and reserved, she has come a long way in showing her true personality as a young scholar. In September, Addie showed great detail to the work that she has completed and even has done more than what was required.  This is evident in the work that is attached. She interacts with her peers and takes chances on herself to have the wrong answer. She is such a respectful young lady. She always has a smile on her face which makes time in class with her enjoyable. In each instance, classwork, homework, projects and group work. Addie lead her group in a recent Act it out project which helped earn the team a perfect score.  She is an amazing young women and is working very hard to reach her goals.
History Hero Winners 2017-2018
History Hero Winners 2016-2017
History Hero Winners 2015-2016
History Hero Winners 2014-2015