February 2019 Winners:
Julian Ruiz- Horizon Science Academy Springfield– Julian is a shy young man and is new to our school this year. From the beginning of the school year to now, I have had the wonderful pleasure of getting to know him. Although I had noticed that he thrives in Social Studies, it is only as of late that I have learned how much learning about our History truly excites him and motivates him to learn. We have been able to use his love of History to help him begin a love of reading as well.
In Social Studies class Julian is always the first one to participate or volunteer to help another student when he is finished with his work. He  has even been doing his own research and reading about different parts of our US history at home on his own time. Julian is able to make great real life connections with events in our history and has a great ability to explain and retell stories of the past to his classmates. At times his enthusiasm about history is contagious to his classmates, and this has brought forth wonderful class discussions and questions.
During class discussions, if another student says incorrect information, Julian helps the student understand the correct information in a very respectful and knowledgeable way, without hurting the other student's feelings. I am so happy to see his love of Social Studies open him up in a way I had not seen earlier this year.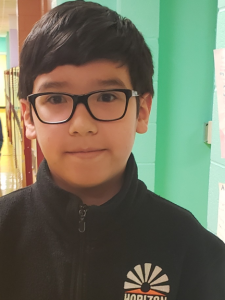 Leron Hammond- Michigan Math and Science Academy Dequindre- Leron is very creative and dedicated when it comes to projects and thinking outside of the box. Despite hardships he faces in his everyday live, he does his absolute best in class and has become a great example to other students to have a determination and let nothing stop them when it comes to their education. Leron is a very mature and humble. Even though his academic performance surpasses everyone's of the classmates, considering the fact that he misses many school days due to lack of transportation. His enthusiasm for the subject is refreshing to say the least. As a World History student, he never sizes to amaze me with his in depth understanding of historical concepts. To show how much he loves history and how knowledgeable he is on the subject, I have attached some of Leron's work below. In conclusion, he is a perfect candidate for the History Hero because I rarely see a student who enjoys History as much as Leron does.
Lia Ramirez- Horizon Science Academy Columbus High School- 
Lia is not a native English speaker but she does not let that hinder her performance in the classroom and in her extra curricular activities. Lia has played volleyball for two years and this year was our starting setter (not technically Social Studies-related but I like to brag about my players J). She was an excellent role model for her teammates on and off the court. Recently, Lia has been excelling in class, coming to extra tutoring sessions to get help with work and just use them as work time when she is behind. This week, Lia turned in an awesome propaganda poster creation for our unit of study on WWII Homefront. She's an overall great kid and student!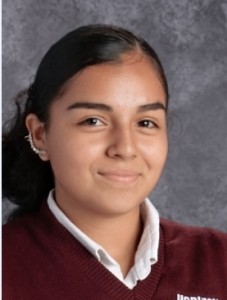 Imari Sweeten- Horizon Science Academy Cincinnati– Imari Sweeten is a stellar 6th grade student from Horizon Science Academy – Cincinnati. Imari applies herself in all of her classes and demonstrate a love of learning. She is often interested in exploring topics further and is not afraid to ask questions. I am nominating Imari for her outstanding work completing a recent Egyptian Pyramid Project. Imari created her own pyramid with artifacts from her own life and artifacts found in real Egyptian archeological sites. Imari made her project outstanding, not only through her research, but with her design. If you look to the bottom right of her poster you can see that she has layers of notecards. Each explained an artifact in detail and made her poster very accessible for all students.
January 2019 Winners:
Tatyona Hollowell- Horizon Science Academy Springfield– Tatyona currently has a 3.95 cumulative GPA for the 2018-19 school year. She has received all A's in social studies as well. She enjoys participation in class and often asks very in depth questions and gives insightful responses about topics involving history and current events. Tatyona is also a member of the drama club at HSAS. Her passion for drama recently was on display for a social studies activity where students were tasked with creating a skit to teach one of the first ten amendments of the U.S. Constitution to their classmates. Tatyona's group chose to teach the 6th amendment and went above and beyond the typical skit performed in class. The group put together a slideshow which was used as a prop and part of their courtroom scene to show the right to a fair and speedy trial with witnesses. The trial was about a case of "nerder," a nerd murder, committed by one of Tatyona's classmates. Tatyona played a large role in the creative process and as the judge/narrator of the trial.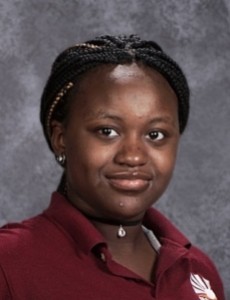 Tasneem Dizdarevic- Gateway Science Academy Fyler– Tasneem completed a mock postcard of the Eiffel Tower in Paris, France.  She was to draw the Eiffel Tower on one side and on the other, write about the climate of Paris, the reason for the structure's construction and current existence, and why it is worth seeing. Tasneem also learned how to send a postcard with postage and the correct format of the address line.
Alexandra Massa- Horizon Science Academy Lorain– Alexandra Massa completes all of her assignments with effort and care.  Her work is often chosen as an example of a well-completed work sample or project that can be used by others to follow.  Her participation in class discussions is impressive.  She has a lot of great information to share with the class. For this Social Studies Project for 4th Grade Ohio Research- The students were given the opportunity to use technology and reference books to research information about Ohio; more specifically finding popular attractions and facts which set our state of Ohio from the others in the United States to create a Visitors Brochure/Pamphlet.Alex completed her assignment with effort and enthusiasm.  She was committed to completing her project and doing well.  She also helped others in her class to complete their projects by creating an example of an excellent project to follow.
Kyree Hicks- Michigan Math and Science Academy Dequindre- Kyree Hicks is truly the model student in the classroom and out. Kyree is also a part of Student Government and the first person you'd want to go to for any words of encouragement and support. Kyree goes above and beyond in the classroom to further his educational pursuits by turning in excellent quality work. He also makes sure he comes to school earlier in the morning or stays late if he is stuck on a concept. His grit is truly admirable. 
Outside of the classroom, Kyree is the type of student that you want to encounter when you are having a bad day. His out of this world smile and laugh will make anyone's difficult days' fade. He truly is one student who has mastered the concept of emotional intelligence as he makes many of us at MMSA see the importance of having a blessed day.
November 2018 Winners:
Madison Battin- Horizon Science Academy Columbus Middle School- Madison is such a postitive, smiley, and kind young lady.  She is self-motivated and eager to learn.  She excels in and out of the classroom because she is open to new ideas, willing to see things from new perspectives and has a sense of adventure. Madison excels in the classroom.  Her work ethic and dependability are second to none.  she is willing to risk sharing answers when everyone else is unsure or is stumped.  Her organizational skills allow her to be very active in the school community.   She is involved in numerous club and intramural activities , as well as being a member of CYSP. Madison embraces the idea of pushing her limits and becoming a well-rounded scholar.  it is through CYSP activities that Madison has show her openness to new ideas and environments.  Nature is not necessarily her thing, but she is currently working toward completing several community programs at the Columbus Metro Parks.  She tends to be the leader during these activities, jumping in immediately and immersing herself in the topic.  Her enthusiasm and positive are infectious.  other hesitant or shy students follow her lead.  Madison is great at making all students feel comfortable with new things through her adventurous attitude and confidence. Both in and out of the classroom, Madison exemplifies the HAWK character traits: Honoring diversity, Accountability, Willingness and Kindness.  She leads through positive example and encourages others to be the best person they can be.  Madison accepts people for who they are and in group activities knows how to use strengths to a postitive end.  She always offers kindness and assistance to her classmates.
Melek Iskandar- Horizon Science Academy Dayton Downtown– Melek is an outstanding student and a phenomenal leader that exemplifies leadership through care, responsibility and initiative.  This fall Melek finished reading a book and realized how much she loves to read and wanted to share that passion with others. She approached Admin to start a Reading Club for younger students in the school that are struggling with reading.  She wanted to spend time after school to read with them and help encourage them to love reading by helping them gain confidence in their skills. She wrote a proposal for the Reading Club, complete with a discipline policy for the students. She chose to meet with 3rd grade students first and work through the book Junie B. Jones and The Stupid Smelly Bus.  Melek created a permission slip to go home with the students that were chosen by the 3rd grade teacher. Each Monday, Melek and her three reading club students meet in Ms. Lucas's classroom for one hour. They read and discuss the chapter. Melek keeps the students on task and monitors their behavior. Melek is a perfect candidate for the History Heroes. She identified a problem within the school  community and devised a way that she can make a difference by sharing her gifts.
Hafsa Akyol- Michigan Math and Science Academy- Dequindre– Hafsa enrolled at MMSA this year as a senior coming from Texas. Starting a new school and leaving everything you know behind is always difficult however one would never know this looking at Hafsa. She is nicknamed "HotSauce" because of her Brain Super Hero project that she excelled in. Not only did she do an outstanding job on that project but she also assisted and helped other students complete theirs. Most new students usually shy away from the spotlight but not our HotSauce. She thrives helping out other students and contributing to the class discussion. Her work is always exceptional and her work ethic is admirable. She is currently enrolled in my AP Psychology course and AP Calculus. In both courses, she serves as a mini teacher. Always volunteering to come up and do the problems on the board or lead the discussion. It is truly remarkable to see this effort in a students. I wish I could clone here. Outside of the classroom, Hafsa helps with our school sponsored events and outside the school she tutors at an organization as well as private tutoring. She has very quickly become part of our community and family.
October 2018 Winners:
Xzadriana Natal- Horizon Science Academy Lorain– Xzadriana forth 100 percent effort into all that she does in school. She is helpful to others and works well with all of her classmates. Xzadriana is an example of a wonderful student with a great work ethic and drive for academic achievement and success. She is often an example that others follow. Project Completion date 10-11-18 Ohio Facts Research and Illustration page project. The student completed this project with time, care and effort. She worked diligently during class using her Chromebook and other resources given to research information and facts about Ohio. During the 2 weeks to complete the project, she spent extra time in and out of school working on it and also printed colored illustration pages at home. Below are examples of Xzadriana's excellent project.
Geno Cook- Michigan Math and Science Academy– Geno has always been a good student and very active in participation and class discussion in my classes. This year when the seniors can take it easy with courses, he decided that he was going to challenge himself by taking an AP class so that he can better prepare himself for college and the future. Not only is he a key factor in our classroom discussions and dialogue but he also turns in quality work. We had our Voter Registration Drive and Geno was one of the students that helped make our event a success. He has also taken the initiative to get trained to work Election Day at the polls in our community. Lastly, our students teamed up with the Alzheimer's Association and we went to the Detroit Historical Museum and assisted with an event they were hosting. Geno went to the event and not only helped and assisted in the success of the event but he made meaningful connections with the guests there and positively represented himself and our school. Below are examples of Geno's outstanding work.
Isaiah Harvey- Horizon Science Academy Youngstown– Isaiah Harvey often goes above and beyond as a student in his history classroom.  He is often helping other students, participating in classroom discussions and adding his own knowledge to the discussion.  He has a GPA of 3.76 and ensure that his work is turned in on time.  He is currently working on a bonus project to create an assortment of myths and legends of Rome,.  He also volunteers every month at a local animal shelter with his family.
September 2018 Winners:
Aisha Bhatti- Chicago Math and Science Academy- Aisha is one of the most outstanding students I have ever taught in 7 years of teaching high school.  She came to CMSA her sophomore year from a homeschool setting.  I noticed early on that for Aisha it was an extra effort to be successful at CMSA.  Aisha was in rolled in APUSH and APWH and has achieved and surpassed all of her peers in both subjects.  The focus of a major history paper that year examined cause(s) for the American Civil War.  Aisha wrote one of the best and most eloquent arguments for the subject I have ever seen from a student.  She critically and carefully analyzed the nuances of social, political, and economic factors inherent in the complex conflict.  I retain a copy of her paper today as a pristine example of what it is possible for AP history students to aspire too.  Her AP exam scores are representative of the highest achieving student I have had in both subjects.  Thanks to her remarkable efforts at critically examined and improving her work she has earned free college credit in both subjects!
I wish I could take credit for Aisha's success, but the reality is she deserves all the credit for her outstanding efforts at improving her skills and developing productive relationships with her peers.  She frequently would attend tutoring; seeking to improve her reading and writing skills, even beyond the benchmarks that I had set as representing significant improvement.  She set personal goals that ensured her success and tirelessly worked to achieve them.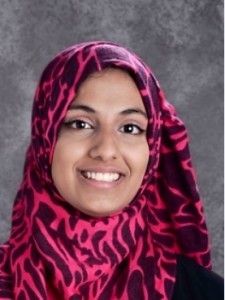 Marcus Stanley Jr.- Horizon Science Academy Dayton Elementary- It is easy to go on and on about Marcus'  work ethic in school and submit his class work and projects which he gives 100% every time but my nomination this month has everything to do with Marcus's passion for making Dayton Elementary events a success. Marcus is such a wonderful person who goes out of his way to volunteer in all the events at his school. He goes above and beyond to rally up support and morale for the things that we do. Not only does Marcus excel in his courses at our school but he also excels in community events outside of school.
Addie Collins- Michigan Math and Science Academy- Addie is proving to be an exceptional student. While she started the year quiet and reserved, she has come a long way in showing her true personality as a young scholar. In September, Addie showed great detail to the work that she has completed and even has done more than what was required.  This is evident in the work that is attached. She interacts with her peers and takes chances on herself to have the wrong answer. She is such a respectful young lady. She always has a smile on her face which makes time in class with her enjoyable. In each instance, classwork, homework, projects and group work. Addie lead her group in a recent Act it out project which helped earn the team a perfect score.  She is an amazing young women and is working very hard to reach her goals.
History Hero Winners 2017-2018
History Hero Winners 2016-2017
History Hero Winners 2015-2016
History Hero Winners 2014-2015