Michigan Math and Science Academy Dequindre Visit 11-15-2018
On a recent visit to Michigan Math and Science Academy Dequindre I was able to visit classes that were doing amazing things.  First in Mrs. Phillips 7th grade class students created a human map  of Egypt's geography.  After the activity students were able to complete the blank map of Egypt given to them without looking a book, they were able to complete it using their memory of the activity alone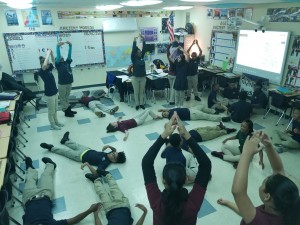 Students in Mrs. Phillip's 8th grade class were awarded with their "law school degrees" after learning about the Constitution of the United States students were given a test and if they passed it they were awarded with an honorary law degree.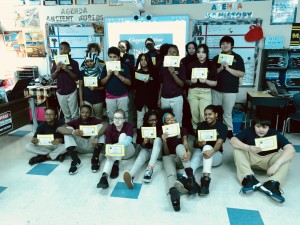 In Mrs. McGerty's 11 grade Government class students just learned about political opinion and public opinion polls.  Students learned about the four key nonnegotiable factors that make a poll unbiased, and best for collecting accurate data.  After creating their own poll questions, for example- should Michigan schools implement a 4 day school week, students analyzed the data and create a chart explaining their findings.  The high school students then met with the 4th grade students, taught them about public opinion polls and helped the 4th grade students create their own poll question and chart.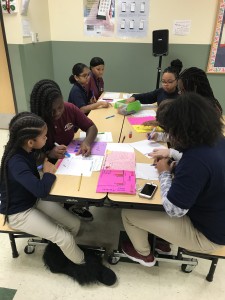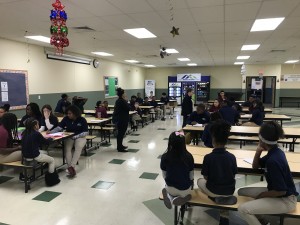 Video of students working: IMG_3574
Valmire Fetahu- Michigan Math and Science Academy- In honor of International Women's History Day Ms. Fetahu put on Michigan's first ever International Women's History day program.  Students invited special women in their lives to the school.  They wrote them letters that some read out loud, other students performed songs, spoken word pieces and poems all honoring women.  It was an amazing event full of love and empowerment!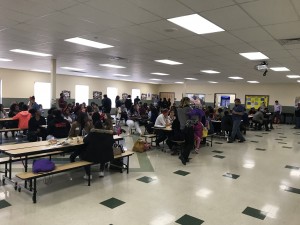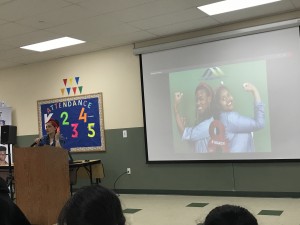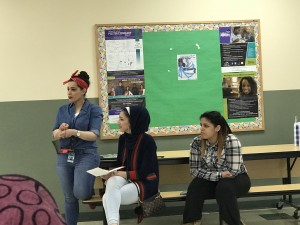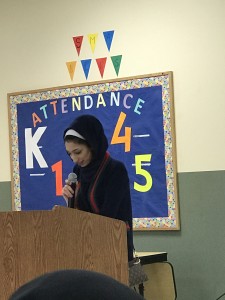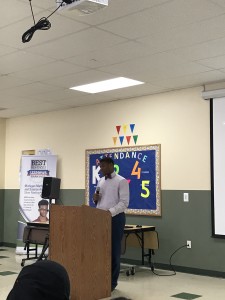 IWD VIDEO 4 IWD VIDEO 3 IWD VIDEO 2 IWD VIDEO
Andrew Ho-Lung- Horizon Science Academy Cleveland Middle School– Mr. Ho-Lung and his students created a Martin Luther King "I have a dream" video check it out here-
This video was also featured on Fox 8 in Cleveland – http://fox8.com/2018/02/28/horizon-science-academy-students-special-tribute-to-black-history-month/
Steven Smrt- Horizon Science Academy Belmont– Mr. Smrt's 6th grade students have been working on a presentation about their assigned Greek city-states.  Each group had to create a flag with symbols that represented their city state, a piece of architecture, and an anthem to present to their class.  Here is a clip of one of the anthems from the city state Sparta- IMG_2201
Sarah Chambers- Horizon Science Academy Southwest Chicago– On all of the Ms. Chambers' desks this cheat sheet is taped for students to practice annotating (marking up the text).  Students have a constant reminder on how to interact with their reading to improve student comprehension.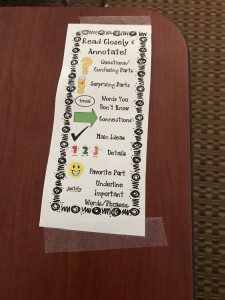 Mary Rienhart- Milwaukee Math and Science Academy– Mrs. Rienhart students created posters to demonstrate understanding of the American climate after the Civil war.  Here is a great example-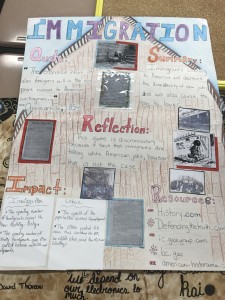 Samantha Guinther- Horizon Science Academy Columbus Middle- Ms. Guinther's 6th grade students were learning about different types of governments.  To really show students what each government type is like in action Ms. Guinther had them participate in a hands on activity.  Students were given time limit in which they were to create the tallest tower they could with specific supplies.  Each group was also given a type of government and that is how they had to complete the task.  IE. students groups that had a dictatorship as their type of government had one student in charge of the entire project, doling out directions and in one case tickets for punishments.  Students then presented their government type and their tower,  at the end of class students were asked to reflect on the pros and cons of their government.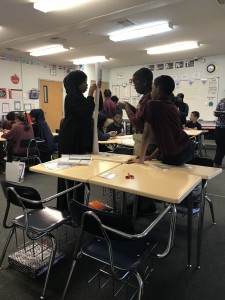 Video
Megan Lucas- Horizon Science Academy Dayton Downtown- Ms. Lucas' 6th grade students were learning about ancient Mesopotamia.  Sumerians created the first form of writing called cuneiform.  After students learned about the importance of the written word and scribes they learned just how difficult it was to be a scribe back then.  Students were given hunks of clay that they had to flatten out and then write their initials in the clay using Sumerian symbols.
While learning about ancient Egyptian burial customs Ms. Lucas' 6th grade students had to take legos of all different sizes and create a pyramid, to see how hard it was for the Egyptians to build the pyramids.  They also mummified their classmates.
Greg Brown- Horizon Science Academy Columbus Middle School- Mr. Brown's class completed a series of graphic organizers compare and contrasting Sparta to Athens.  His take on a traditional Venn diagram creates dimension and it can easily be turned into a study guide.
Mr. Brown's students completed a greek mythology project that required students to to demonstrate their knowledge about one Greek god in an artist way.
Kara Boucher- Indiana Math and Science Academy West– Mrs. Boucher's students participated in a reenactment of the Constitutional Convention, with their very own George Washington.  Students were placed in groups representing the states and had to decided together which plan they should support.  George Washington wrapped the activity up with a vote for each plan.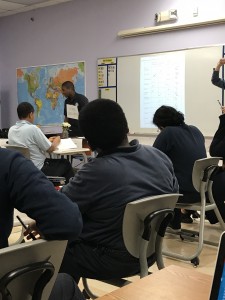 Valmire Fetahu- Michigan Math and Science Academy- Classroom's are meant to be a place where students feel comfortable and want to stay and learn.  Ms. Fetahu's classroom is like no other.  One of my favorite aspects of her classroom decorations is her squad goals wall.  It's fun but also inspirational.
Meghan Cremean- Horizon Science Academy Toledo- Ms. Cremean knows the value of an organized classroom.  Each student desk grouping has their own stackable organization tower.  Wasted time finding supplies is cut out due to this system, it allows for less downtime which can lead to behavior problems and lost instructional time as well.  This is only one of Ms. Cremean's excellent classroom organizational procedures.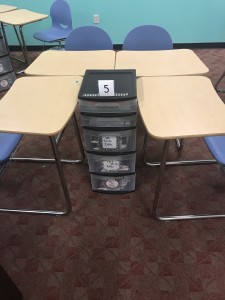 Ryan Reiter- Horizon Science Academy Toledo- Who remembers making the fortune tellers in elementary/middle school?  Mr. Reiter has taken them to a whole new level.  To help his 10th grade US History students understand the key concepts of the Industrial Revolution, Mr. Reiter had his students create this foldable with definitions to key terms and products during the time.
Valmire Fetahu- Michigan Math– Ms. Fetahu AP US History class has been learning about the Progressive movement in the United States.  To help the students to connect with the era in our history where many changes were being made Ms. Fetahu had them participate in a Speed Dating activity.  Each student was a reform of the early 20th century.  Their objective was to educate their classmates about their reformer and win the title of "The Most Influential Reformer" of their time.  Kids also dressed up as their person.
Jenna De Bruin- Horizon Science Academy McKinley Park– Mrs. De Bruin's class was learning about the Civil War. Students in all classes of US history in 10th grade made hardtack and recipe from Union soldiers for beef stew. The students eight beef jerky in true Civil War soldier style.
Agnes Koson- Horizon Science Academy McKinley Park– Ms. Koson class has been studying the ancient Olmec civilization. The students spent time in class sculpting their own version of giant "Olmec" heads. Some students sculpted the heads on a jaguar to represent the main Olmec god. Here the results!
Megan Parker– Horizon Science Academy Columbus Middle School– Mrs. Parker's students participated in a simulation mummy activity.  Students were teamed up, given toilet paper  to wrap one of their classmates up like a mummy mimicking the Ancient Egyptian burial tradition.
Michael Sklad- Horizon Cleveland High School Mr. Sklad was the week's Teacher of the Week. Congratulations to Mr. Sklad, another great example of the social studies teachers that we have in our network!  See the video below to watch Mr. Sklad accept his award: http://www.newsnet5.com/news/education/teacher-of-the-week-horizon-science-academy-teacher-michael-sklad
Caitlin Canavati- Indiana Math and Science Academy North– Ms. Canavati's students created their own Egyptian death masks that represent their personalities and the way they want to be represented.
The ancient Egyptians performed mummification to transform the bodies of the dead into dwellings for the ba (spirit) in the afterlife. The seventy-day process purged the corpse of fluids that cause decay and endowed it with the attributes of gods such as Osiris and Ra, who had the power to renew human life eternally.
An important part of the mummy was a helmet-like mask, which was placed over the head of the linen-wrapped body. Its youthful features were not intended as a likeness of the deceased, but projected an idealized image for their existence in the afterlife. For more information about Egyptian masks: http://www.britishmuseum.org/explore/highlights/highlight_objects/aes/e/egyptian_mummy_mask.aspx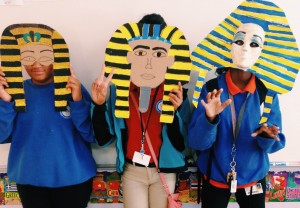 Agnes Koson- Mckinely Math and Science Academy: Native American Culture Activity.
Ms. Koson's students did a jigsaw activity and became "experts" on tribes in 5 regions in America. They created maps and taught the class about their food, housing, climate and culture. Each student also got a chance to create totem poles that tell a personal story just like the natives in the Pacific Northwest.
Erica Cotterman Horizon Dayton Elementary: Inca Weaving activity. 
Mrs. Cotterman's students are learning about the Inca civilization and one of the oldest Inca traditions, weaving. After discovering why weaving was such an important part of the Inca culture and a skill still being taught today to Inca descendants the students were able to try their own hand at making traditional Inca weaving patterns.
For more information about the tradition of Inca weaving:
Video about Inca Weaving and Alpaca and Llamas:  http://www.travelchannel.com/video/watch-traditional-weaving-11584
Informational reading about the Inca weaving: https://www.boundless.com/art-history/textbooks/boundless-art-history-textbook/the-americas-after-1300-31/the-incas-193/textiles-701-6922/
Agnes Koson HSA Mckinley: The 6th graders have been working very hard on their Ancient Egypt unit. They just finished making projects to show off all of their new knowledge by creating dioramas of pyramids, tombs, and 3D geographical maps.
 The 6th graders also took a field trip to the Field Museum where they got to participate in an activity called "Egypt Unwrapped". The students got to look at various replicas of Egyptian artifacts, become embalmers, and they even got to see real life mummies!
The 7th graders have been working hard too , learning about the 13 colonies. They got to put their writing and acting skills to good use by writing, directing, and performing, a play about the first successful English colonies in North America.
Dale Vinson Dayton Downtown: On Tuesday, November 4, the 6th grade students took part in their own mummification process which resembled that of the ancient Egyptians.  The students were put into groups, and each group chose a member to be "mummified".  The students had to begin by removing the organs of the body.  To represent organs, the students had cauliflower for brains, rope for intestine, socks with noodles for lungs, and a lemon for the stomach.  Each of these were removed from the body (or from on top of the body) and placed each organ into their jars (plastic cups).  The students then had to put salt in the body (pretend) and wait 30-40 days for the body to dry out (30-40 seconds).  Before they could begin wrapping the body, the students had to clean the body by using hand sanitizer and rubbing it on the palms of the mummified student.
The final process of the day came when the students were allowed to start wrapping.  The students were given linen (toilet paper) to wrap their mummy from head to toe (leaving the mouth and nose clear).  They were given 15 minutes to use 4 rolls of toilet paper to wrap their mummy.  The end result was 5 mummified classmates, a different understanding of the ancient Egyptian mummification process, and lots of memories to share.
Betsy Beaver Noble Columbus: Students in Ms. Beaver's classroom completed the Ancient Greece shield activity. Just like the ancient Greeks the students were asked to create hoplite shields that were representative  of themselves.  shields 

Ryan Rodriguez CMSA: Interdisciplinary Activity.  Two teachers at CMSA have managed to do the almost impossible. 9th grade social studies teacher Mr. Rodriguez and fellow math teacher Ms. Katanic merged two unlike subjects to create a hand/brains on activity that their students are sure to remember.  Mr. Rodriguez's class is currently learning about World War I, a war that saw many advancements in technology and new types of weapons used for the first time in warfare.  To demonstrate this and to give the students real experience with the difficulty of hitting a direct target Mr. Rodriguez created a trench like simulation.  The students were put into "artillery" groups that launched grenade water balloons at targets.  Ms. Katanic's math students also participated by helping the water balloon grenade launchers to find the correct angle that would allow their balloon to hit the target.  The math students then calculated the velocity, and distance of the water balloons that their group launched.  This was an excellent activity that brought together two subjects that normally find little common ground and gave the students something that they would never forget about World War I!
Shana Augustyniak: HSA Toledo Black History Month Activity. Ms. Augustyniak's students created posters for black history month.  The students were asked to choose two African Americans who inspired them (one person from the past and one from the present). The students' posters had biographical information and inspirational quotes. The students then presented their posters to the class.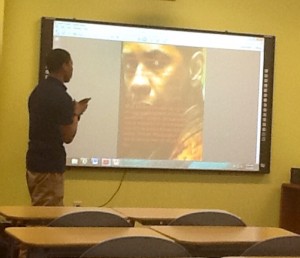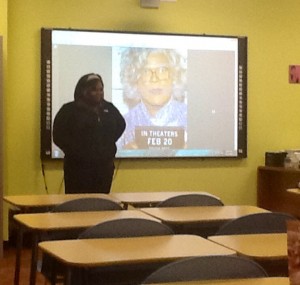 April Maimone: Cleveland Middle School Black History Month
Ms. Maimone had all of her students complete black history presentations.  These presentations included fact sheets and pictures of the people the students were presenting about.  The students also created picture frames and borders for their pictures and Ms. Maimone used them to create this awesome collage!!!
Erica Fawley: Horizon Dayton Elementary- Election Day Activity
In Erica Fawley's class this November the students were able to participate in a mock election for local government.  The students were taught about the election process and also information about each candidate and important issues being raised this election.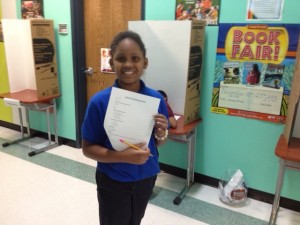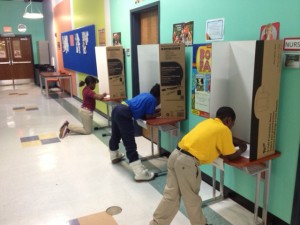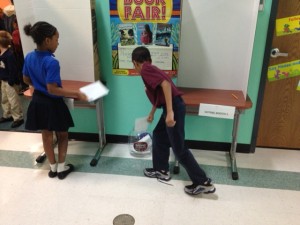 After the students voted the votes were tallied up and the winners of the Horizon Dayton Elementary School was announced in the social studies classes.  After the election was over Erica's class add another educational to the lesson plan when the students charted the results.
Dale Vinson: Dayton Downtown- Mummies!!! 
Dale Vinson teaches a 7th grade socials studies class and recently his students began learning about the mummification process from Ancient Egypt.  After learning the steps and the religious reasons behind mummification, students took a turn becoming actual embalmers. The class was broken into 3 groups, and each had to eventually "mummify" a member.  But first they pretended to remove the brain (cauliflower), lungs (socks with rice), stomach (lemon juice holder), and intestines (rope) and put the organs into jars (baggies).  Next, the students had to clean the body with spices (hand sanitizer) by putting the spices on the group mummy's hand and finally wrapping them without toilet paper and tape. Finally, the students made a sarcophagus by outlining their mummy on the floor.  Dale was able to bring history alive and connect his students to a practice taking place thousands of years ago.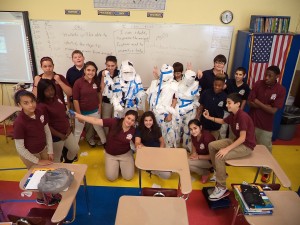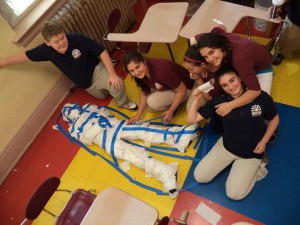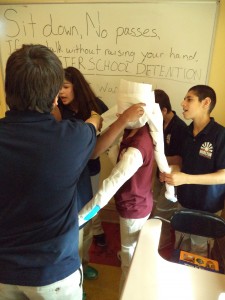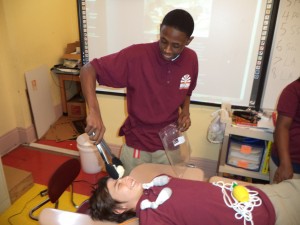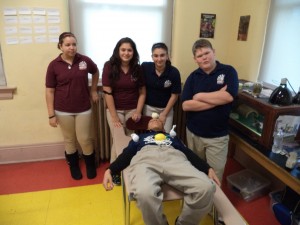 Allison McManus: Gateway St. Louis- Trash Day
Trying to introduce the idea of history, archaeology and people's culture's from thousands of years ago is no easy task, ask any history teacher! Allison McManus has created an ingenious way to introduce these complex topics in a way that her 6th graders could understand and apply in their own lives.  Allison complied trash…yes literal trash…from different people in her life and presented the students with each person's trash.  The students were given the challenge to determine what age, gender, job and hobbies the person had based solely on their trash (take about using primary sources).  The students complied their information about their stranger on a poster for the entire class to see.  The students got a taste of how historians and archaeologists problem solve and create the history the students are studying.